Rodeo Clinics & School
---
---
---
Gary Zilverberg 1 day Roping Clinic
March 25th Good Friday
Lazy Heart Z Ranch, Holabird Grade
Holabird SD (indoor and outside if weather permits)
Horsemanship and handling your rope.
Gary has 5 decades of being in the winners circle as a roper
Highlights of his career are Calgary All Around Champion, NARC World Champion all around and Calf Roper, 2 times Senior Pro World Champion All Around, team roper and Calf roper. SDRA 14 x all around many times SDRA and NRCA calf roping champion. Gary has trained hundreds of calf roping and team roping horses. 1000s of titles in three different continents over 5 decades....... has experience for all levels of competitors to gain from.
---
Good Ranch Steer Wrestling Schools
April 9th and 16th here at the ranch
For more information call Allen Good 605-441-6898 or 605-462-6290
---
Mary Walker and Nikki Steffes Barrel Racing Clinic
Huron, SD
April 15th One-day (Adult and experienced) $350
April 16-17 Two-day clinic $600
Stalls through Tara at the fairgrounds book closer to clinic
Contact April Zilverberg 605 871 9056 email: aprilhanby@hotmail.com
---
SDRC 2016 CLINIC LINE UP
It keeps getting BETTER!!
J.P BELL • CUTTING CLINIC
TOP 10 Cutter in the World,
National Director & Judge
APRIL 2 & 3 • $300
Bar T Arena, Hartford, SD

WALT WOODARD • TEAM ROPING
2X NFR Champion, 10X NFR Qualifier
APRIL 15-17 • $500
Bar T Arena, Hartford, SD
Taking 13 Headers & 11 Heelers
(10 spots filled already)

ROPE MYERS • STEER WRESTLING
2001 NFR Champion, 9X NFR Qualifier
APRIL 23 & 24 • $400
Bar T Arena, Hartford, SD
Taking 20 participants

CALF ROPING/BREAKAWAY
• SHANE HANCHEY
2013 NFR Champion, 6X Qualifier
MAY 6 & 7 • $450
Bar T Arena, Hartford, SD
Taking 15 Calf Ropers & 15 Breakaway
(14 spots filled already)

SDRC/SHANE HANCHEY OPEN CALF ROPING
MAY 8th - watch for further details!!

For more information or to register for a clinic call or text Tami at (605) 929-3792.

---
Better Basics Goat Tying Clinics
Instructed by 3x NIRA Champion, Lynn Smith
Clinics cover Technical Skills, Physical Condition & Mental Toughness
Lots of goats @ the clinics!
For More Information check out the web:
Or call Lynn @ 307-857-0307
---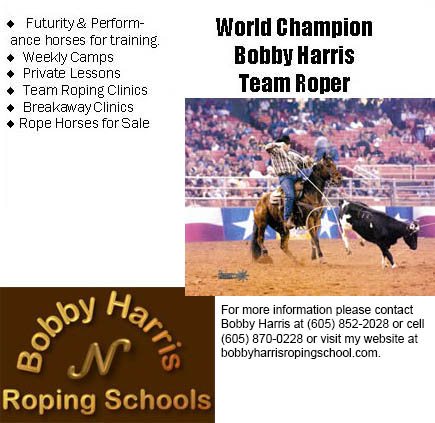 ---