Rodeo Clinics & School
LES VOGT CLINIC sponsored by DAKOTA RIDERS
SULLY CO. FAIRGROUNDS, ONIDA, SD
August 11-12, 2014, 9:00 a.m. Check in-8:30-9:00 a.m.
Participant with horse ($400 total; $150 down payment, balance due at check-in)
Observer $25/day: (Circle ONE: Monday, Tuesday, Both)
Participants will be taken as a FIRST COME/FIRST SERVED basis. You WILL BE NOTIFIED. You MUST include your $150 down payment with COMPLETED entry blank. No places will be 'held' pending payment/entry blank. Your down payment will be returned if slots fill.
Unlimited OBSERVER spots available and do not require a down payment.
Stalls are NOT available. Portable stalls ARE allowed at participant's trailer. Participants are responsible for their own horse, feed, bedding, etc… if left at Sully County Fairgrounds. Camping allowed on grounds. Contact Cherie Hill (605-222-2548) for electrical camping spots.
Mail entry & down payment to: Dakota Riders 30616 183rd St. Onida, SD, 57564. Make checks payable to Dakota Riders
---
South Dakota Reined Cow Horse Association Cow Horse Clinic
Central States Fairgrounds, Rapid City, SD
August 28, 2014, 9:00 a.m.
Click here for details
---
Better Basics Goat Tying Clinics
Instructed by 3x NIRA Champion, Lynn Smith
Clinics cover Technical Skills, Physical Condition & Mental Toughness
Lots of goats @ the clinics!
For More Information check out the web:
Or call Lynn @ 307-857-0307
---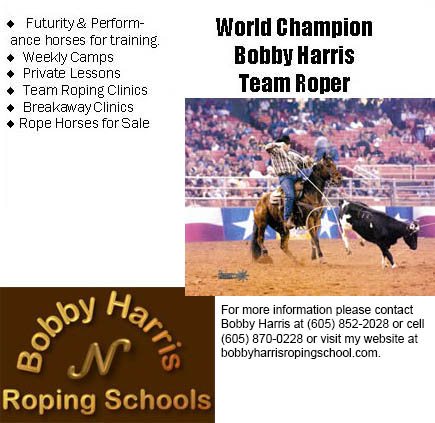 ---