Rodeo Clinics & School
Ken Smith pole bending clinic
2 day clinic open to everyone
April 18-19, 2015, Huron, SD
One day tune up clinic for previous students Friday, April 17th.
Private lessons also available Thursday. Venue to be confirmed
Contact April Zilverberg (605) 871-9056
Email Aprilhanby@hotmail.com
---
Cutting clinic at North ridge ranch, Pierre, SD
Early Spring 2015 dates to be confirmed
Trainer Tracy Barton.
Indoor temp controlled barn.
Day one 1/2 day will be introduction to cutting aimed at Jr. high and high school students who want to get into cutting.
Will go over basic rules, leasing, or buying cutting horses. Will be opportunity to bring horses to go over tack, bits pads, leg gear, reins, chaps spurs everything that gets asked at some time.
Riders will work on the flag and on cattle.
Spectators are welcome and non-riding students. (students who do not have their own cutting horse are welcome to come as non-riding students)
Email: aprilhanby@hotmail.com if you're interested. It will be first email names in to hold the riding spots.
---
3rd Annual Good Friday roping clinic with Gary Zilverberg
Gary is Calgary all around cowboy 1979, (the pick up he won is sitting in the garage)
14 times all around cowboy of the SDRA, competed in PRCA and a number of amateur circuits.
Winner of over 108 saddles, 1000s buckles in 4 different countries over now going to the 5th decade..
Have been all around worlds champ and roping champ in Senior pros 2007 and 2008, Still competing strong today and training horses at Holabird.
Venue has varied each year with full clinics. Holabird year 1, Aberdeen year 2.
Back to basics and being solid. Perfect practice methods using the dummy, horsemanship practices for the roping horse. Safety practices for ropers and parents.
$125 for the day pot luck lunch!
Day two will be run if needed roping live cattle. Tie down and breakaway.
Price TBA.
Email Aprilhanby@hotmail.com
---
Better Basics Goat Tying Clinics
Instructed by 3x NIRA Champion, Lynn Smith
Clinics cover Technical Skills, Physical Condition & Mental Toughness
Lots of goats @ the clinics!
For More Information check out the web:
Or call Lynn @ 307-857-0307
---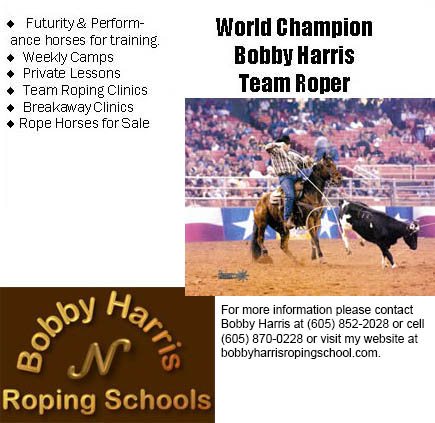 ---