Rodeo Clinics & School
Cutting Jackpot
March 28, 2015 9:30 AM
Yellow Rose Arena, Platte, SD
Click here for more info...
---
Reined Cow Horse Clinic
April 4, 2015 10:00 AM MST
Seven Down Arena, Spearfish, SD
Click here for more info...
---
3rd Annual Good Friday roping clinic with Gary Zilverberg
Gary is Calgary all around cowboy 1979, (the pickup he won is sitting in the garage)
14 times all around cowboy of the SDRA, competed in PRCA and a number of amateur circuits.
Winner of over 108 saddles, 1000s buckles in 4 different countries over now going to the 5th decade.
Have been all around worlds champ and roping champ in Senior pros 2007 and 2008, Still competing strong today and training horses at Holabird.
Venue has varied each year with full clinics. Holabird year 1, Aberdeen year 2.
Back to basics and being solid. Perfect practice methods using the dummy, horsemanship practices for the roping horse. Safety practices for ropers and parents.
$125 for the day pot luck lunch!
Day two will be run if needed roping live cattle. Tie down and breakaway.
Price TBA.
Email Aprilhanby@hotmail.com
---
Good Ranch Steer Wrestling Clinics
Apr. 11 and Apr. 18, 2015
Good Ranch, Long Valley, SD
$100 for the day ~ noon meal provided
Contact Allen Good at 605-462-6290 or 605-441-6898
---
Ken Smith pole bending clinic
2 day clinic open to everyone
April 18-19, 2015, Huron, SD
One day tune up clinic for previous students Friday, April 17th.
Private lessons also available Thursday. Venue to be confirmed
Contact April Zilverberg (605) 871-9056
Email Aprilhanby@hotmail.com
---
TY TUFF Goat Tying Clinic
April 25-26, 2015
Huron, SD
Click here for details...
---
Doug Young calf roping and breakaway clinic
May 21 & 22, 2015 at Bison, SD
For sign up or more information call Lonnie at 605-490-6226
---
Dane Kissack & Jay Mattson Calf Roping & Breakaway Clinic
May 28-30, 2015
Sturgis, SD
Click here for details...
---
TY TUFF Goat Tying Clinic
June 17-18, 2015
Huron, SD
Click here for details...
---
West River Rodeo Bible Camp, New Salem, ND
SR High (Ages 15-18) June 21-24
JR High (Ages 10-14) June 26-28
West River Rodeo Bible Camp offers life-changing, practical Bible teaching, hands-on instruction from regionally and nationally recognized rodeo cowboys and cowgirls, and the chance to compete in rodeo events for all skill levels. For more information go to our website www.westriverrodeobiblecamp.com.
---
South Dakota Rodeo Clinics
2015 NFR CHAMPION CLINIC LINE UP

WALT WOODARD • TEAM ROPING
2X NFR Champion, 10X NFR Qualifier
APRIL 10-12 • $500
Bar T Arena, Hartford, SD
Taking 13 Headers & 11 Heelers

ROPE MYERS • STEER WRESTLING
2001 NFR Champion, 9X NFR Qualifier
APRIL 25 & 26 • $350
Bar T Arena, Hartford, SD
Taking 20 participants

CALF ROPING/BREAKAWAY
• STRAN SMITH
2008 NFR Champion, 11X Qualifier
• NATE BALDWIN
2X DNCFR Champion,
2X WNFR Qualifier
MAY 8-10 • $450
Bar T Arena, Hartford, SD
Taking 15 Calf Ropers & 15 Breakaway

CHARMAYNE JAMES • BARREL RACING
11X NFR Champion, 19X Qualifier
JULY 30 - AUG 2
Nagels 7N Arena, Springfield, SD
Cost & Registration will be through Charmaynejames.com
Number of participants TBD

For more information or to register for a clinic contact Tami at (605) 929-3792.

**The clinicians determine the number of participants per clinic**
---
Better Basics Goat Tying Clinics
Instructed by 3x NIRA Champion, Lynn Smith
Clinics cover Technical Skills, Physical Condition & Mental Toughness
Lots of goats @ the clinics!
For More Information check out the web:
Or call Lynn @ 307-857-0307
---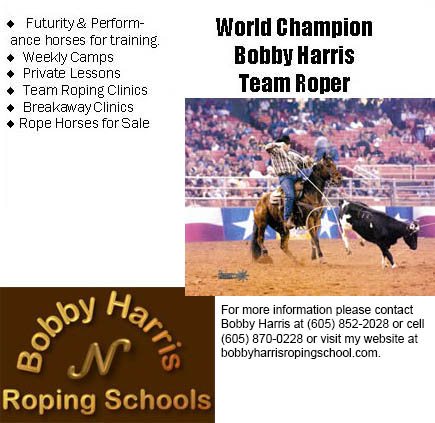 ---