National Finals, Team & Results
Team photos of previous National Teams
NHSRA Smallbore Rifle Match Rules
NHSRA Trap Shoot Rules (Standard ATA rules)
National High School Rodeo Association Website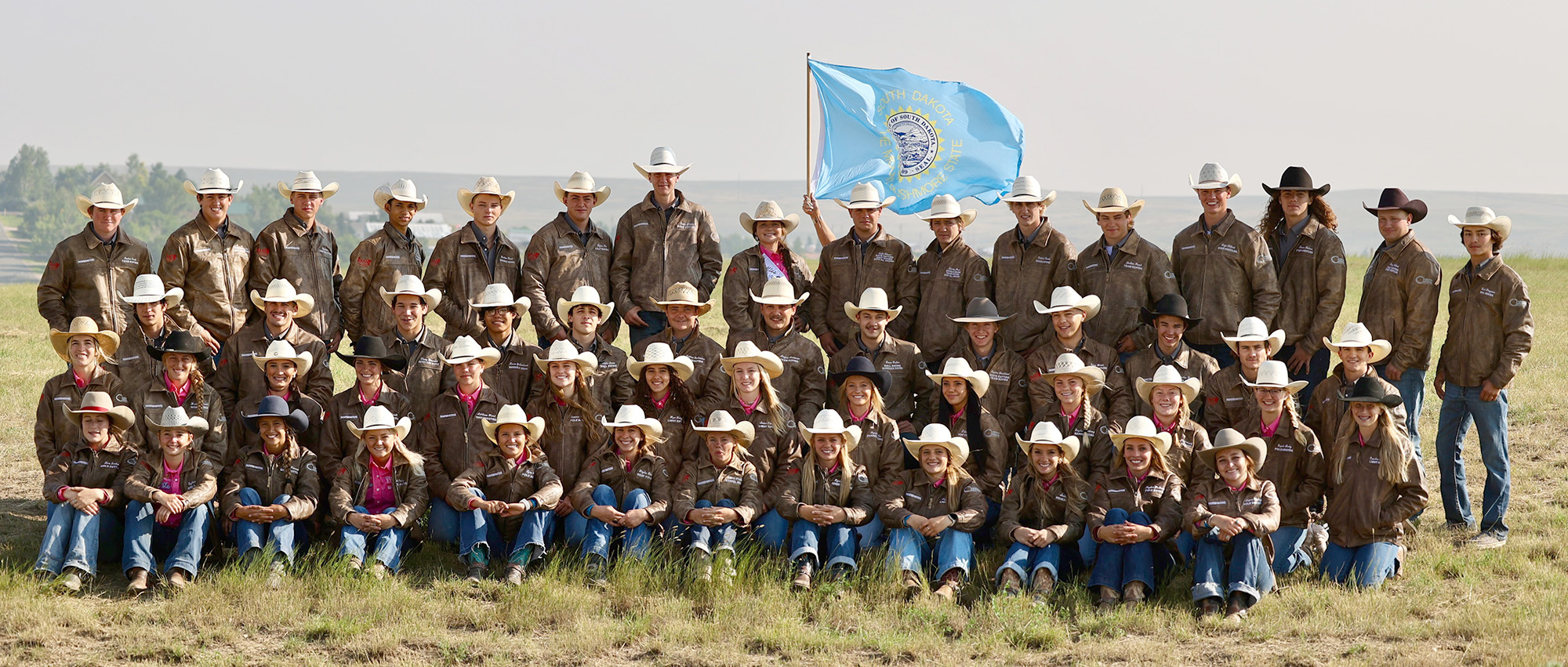 2023 South Dakota National Team
---
2023 National Qualifiers
| | |
| --- | --- |
| QUEEN CONTEST | |
| Avari Dorrance | |
| | |
| BAREBACK RIDING | |
| NAME | POINTS |
| Kashton Ford | 88.5 |
| Devon Moore | 83.5 |
| Reece Reder | 77 |
| Talon Yellow Hawk | 75 |
| | |
| | |
| BARREL RACING | |
| NAME | POINTS |
| Piper Cordes | 90 |
| Claire Verhulst | 84 |
| Gabi Irving | 61 |
| Raylee Fagerhaug | 57 |
| | |
| | |
| BREAKAWAY ROPING | |
| NAME | POINTS |
| Josie Mousel | 63 |
| Josie Menzel | 57.5 |
| Ella Fagerhaug | 56.5 |
| Jaelyn Wendt | 51 |
| Landry Haugen | 51 |
| | |
| BULL RIDING | |
| NAME | POINTS |
| Kash Krogman | 76.5 |
| Raile Joens | 62 |
| Thayne Elshere | 62 |
| Reece Reder | 59.5 |
| | |
| | |
| BOY'S CUTTING | |
| NAME | POINTS |
| Caden Stoddard | 78 |
| Cody Dirkes | 73.5 |
| Gabe Glines | 68 |
| Braden Routier | 62 |
| | |
| GOAT TYING | |
| NAME | POINTS |
| Landry Haugen | 86 |
| Mataya Ward | 74 |
| Brylee Grubb | 73 |
| T. Merrill | 55 |
| | |
| | |
| GIRL'S CUTTING | |
| NAME | POINTS |
| Landry Haugen | 82.5 |
| Sydney Stahl | 71.5 |
| Tava Sexton | 69.5 |
| Piper Hanson | 68.5 |
| | |
| | |
| POLE BENDING | |
| NAME | POINTS |
| Aspen Vining | 76 |
| Taylor McGregor | 60 |
| Sophie Hruby | 59 |
| Summer Schmaltz | 54 |
| Tyra Gates | 54 |
| | |
| REINED COW HORSE | |
| NAME | POINTS |
| Dallie Lawrence | 89 |
| Landry Haugen | 80 |
| Chase Brunsch | 75.5 |
| Ryan Sheppick | 75 |
| | |
| SADDLE BRONC | |
| NAME | POINTS |
| Eastan West | 85 |
| Thayne Elshere | 76 |
| Cade Costello | 69 |
| Gabriel Fauske | 64.5 |
| | |
| | |
| STEER WRESTLING | |
| NAME | POINTS |
| Quinn Moon | 78 |
| Terran Talsma | 70 |
| Grey Gilbert | 70 |
| Gage Gilbert | 61 |
| | |
| | |
| TEAM ROPING | |
| NAME | POINTS |
| Rance Bowden & Sern Weishaar | 82 |
| Paden Belkham & Dalton Porch | 61 |
| Caden Stoddard & Eastan West | 60 |
| Teagan Gourneau & Matthew Heathershaw | 59 |
| | |
| | |
| TIEDOWN | |
| NAME | POINTS |
| Grey Gilbert | 71 |
| Tegan Fite | 63 |
| Gabe Glines | 55 |
| Tate Hoffman | 55 |
| | |
| NATIONAL TEAM | |
| TRAP SHOOTING | |
| NAME | |
| Jude Sargent | |
| Jack Anderson | |
| Kyle Sanders | |
| Addison Ward | |
| | |
| | |
| LIGHT RIFLE | |
| NAME | |
| Jenna Kruger | |
| Lydia Main | |
| Candice Aamot | |
| Mya Heinje | |
| | |
---
2023 National Results for the South Dakota Cowboys and Cowgirls
CLICK HERE FOR COMPLETE RESULTS...
South Dakota High School Rodeo - Top 20 in the World from the 2023 NHSFR:
Barrels Piper Cordes 1, Champion!
Bareback Kashton Ford 2, Reserve Champion!
Devon Moore 18
Goat Tying Brylee Grubb 6
Landry Haugen 9
Mataya Ward 11
Pole Bending Sophie Hruby 10
Saddle Bronc Eastan West 2, Reserve Champion!
Thayne Elshere 15
Steer Wrestling Gage Gilbert 14
Grey Gilbert 16
Trap Jack Anderson overall placing 3
Rifle Jenna Kruger overall placing 2, Reserve Champion!
Top 10 1st Round at the 2023 NHSFR
Piper Cordes Barrels
Kashton Ford Bareback
Kash Krogman Bull Riding
Mataya Ward Goat Tying
Eastan West Saddle Bronc
Thayne Elshere Saddle Bronc
Harper and Weishaar Team Roping
Jenna Kruger Light Rifle
Jack Anderson Trap
Top 10 2nd Round at the 2023 NHSFR
Piper Cordes Barrels
Claire Verhulst Barrels
Kashton Ford Bareback
Devin Moore Bareback
Josie Mousel Breakaway
Jaelyn Wendt Breakaway
Brylee Grubb Goat Tying
Gage Gilbert Steer Wrestling
Thayne Elshere Saddle Bronc
Eastan West Saddle Bronc
Top 10 Short Round at the 2023 NHSFR
Piper Cordes Barrels
Kashton Ford Bareback
Landry Haugen Goat Tying
Eastan West Saddle Bronc
Jenna Kruger Light Rifle
Jack Anderson Trap
AQHA Horse of the Year
CW Ichin To Win (Scratchy), Landry Haugen – 9th
Team Standing – 3rd
Boys – 6th
Girls – 4th